Our first quarter of 2022...
---
We are just wrapping up Zapier phase 2 which includes 7 search functions, 9 incoming actions and 4 additional triggers. Stay tuned for some ideas of what you can do with these additions.

Our team will be shifting focus towards planned projects of bigger scale, while still implementing smaller features along the way with each monthly release.
---
With the hot folder integration, there are now workflow templates that can send information about the job.


What can you do with it?
When sending a file through a hot folder, a file can now be included with details about the job such as quantity, sizes, stock, etc. If you use a third party imposition or workflow program sending job information will allow the interactions to be more dynamic.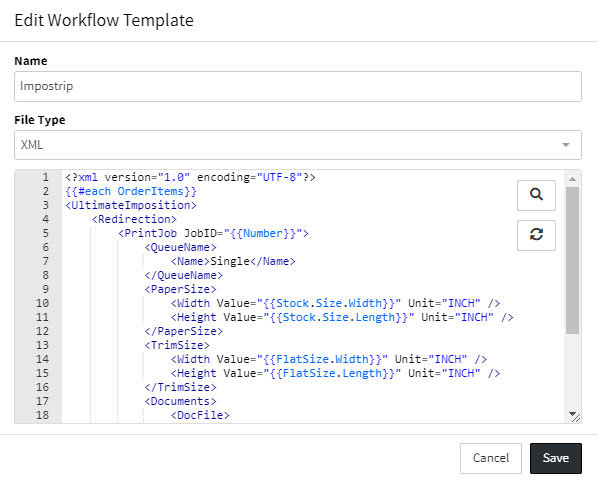 Available formats are JDF, XML and HTML.
---
Wondering what we are working on?
We are creating
forum posts
to give clients more insight into future releases. The items listed will include forum feature requests and projects currently in progress.
---
We are working on some new reports for you to analyze your data:
New Reports
Product Usage
Profit by Order
Outsourcing by Vendor
Outsourcing by Type
Outsourcing by Vendor by Type
Outsourcing by Customer
Outsourcing by Customer by Type
Outsourcing by Customer by Vendor
---
Daily webinars are still being scheduled for the different sections and functions of DocketManager and additional time slots have been added to ensure no one misses out.
Checkout which webinars are happening now
---
Have you created a portal you are particularly proud of?
Let us know and you can be a part of our next portal showcase.
We can give you a full shout out and link to your website or we can mask your logo or custom items to show your styling but protect your privacy.

We can't wait to see what you have come up with!
---
You have been a valuable partner with us in our growth, and now we would like to reward you for your assistance. Every referral you send to us that becomes our client, DocketManager will extend to you a $500 credit.
That credit can be used towards any one of the following items:
• Monthly subscription fee
• Custom Portal Set-up
• Template building
• Onsite Training
• Webinars
• Web-based Training
• System Set-up
This offer is unlimited, therefore the more referrals we receive, the more credit you're rewarded with! To apply, please contact
sales@docketmanager.ca
---