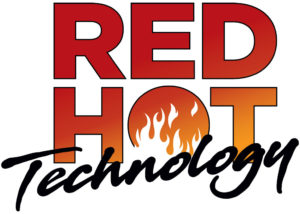 Getting the opportunity to see groundbreaking vendor products and equipment is one reason thousands of industry professionals flock to the PRINT event in Chicago every fall. But with hundreds of booths in the Exhibit Hall, it can be a challenge to get a look at all of the innovative products on display. That's why this year the Association for Print Technologies is rolling out the RED HOT Technology Recognition Program, showcasing the newest products shown at the annual PRINT event.
DocketManager was recently recognized as a RED HOT Technology for Print 18 in Chicago. Joe Kern, Marketing Manager and Technical Sales Rep stated, "This is quite an honor to be recognized by the Association for Print Technologies. Being active in the industry for over 32 years, I have seen many products evolve over time. DocketManager is one of the products that make me excited to be a part of the print community. It is an innovative workflow solution that has the potential to change the way a company does business."
DocketManager focuses on industry and technology trends by creating a product that is not only cloud-based, but built with a completely responsive user interface to optimize utilization of tablets and mobile devices. Coupled with a newly rebuilt Web-to-Print Storefront platform, DocketManager allows for greater client interaction, one-to-one marketing, efficient ordering and reordering, as well as dynamic two-way communication and control.
"Our staff has spent many hours talking with customers and prospects to build an innovative product that can assist printers in workflow management. Being selected as a RED HOT Technology continues to affirm that we have an outstanding solution that continues to move in a positive direction," said Nicole LaCharite, Product Specialist at DocketManager.
The newly released system has added support for multiple level approvers, real-time order status, client-based portal control, online invoice payments, variable data file uploads and enhanced SEO tools for improved search engine results. The storefronts can be used for B2C or B2B clients and are completely customizable to shop or client needs. With DocketManager, print providers will be able to manage an entire company from one system and start leveraging the flexible and comprehensive tools needed to maximize efficiency, and stay competitive in today's fast-paced marketplace.